Frankie Manning Weekend Amsterdam 2004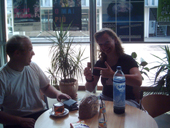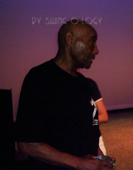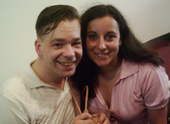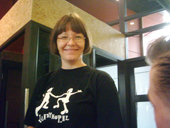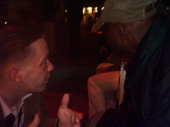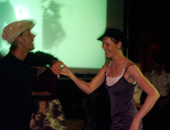 FRANKIE MANNING, born 1914 in Florida, grew up in Harlem, NY during the great Harlem Renaissance. As a boy, Frankie learned popular, social partner dancing, and as a young man, he became an important innovator of the dance now known as the Savoy-Style Lindy Hop. He became a star in the informal jams in the "Kat's Korner" of the Savoy, frequently won the Saturday night contests, and was invited to join the elite 400 Club -- whose members could come to the Savoy Ballroom daytime hours to practice alongside the bands that the Savoy had booked. In 1936, he came in third place in the first Harvest Moon Ball, and in second place the following year. An original member of Whitey's Lindy Hoppers, Frankie Manning is credited with creating the first "air step" or aerial. Mr. Manning also performed in several films, including the Marx Brothers' "A Day at the Races" in 1937 and "Hellzapoppin'," before touring the world with jazz artists Ella Fitzgerald, Bill "Bojangles" Robinson, and Cab Calloway.
Mr. Manning served in the South Pacific in WW2, and after the war had his own dance company, The Congaroos. In the 1950's, he joined the postal service, and after a 30-year career as a postal worker, went back to dancing. Since his retirement from the post office, Frankie Manning has toured the world as the most celebrated social-dance instructor of all time, won a "Tony" Award for Best Choreographer in the musical Black and Blue; was the choreographer to Denzel Washington in Malcolm X; and produced several dance-instruction videos. In 2000, the National Endowment for the Arts recognized Frankie Manning's contribution to dance by awarding him the National Heritage Fellowship.